CNYC's 42nd ANNUAL ALL DAY HOUSING CONFERENCE
42 Classes and a Plenary Session
on Sunday, November 13th via Zoom
Registration is now Open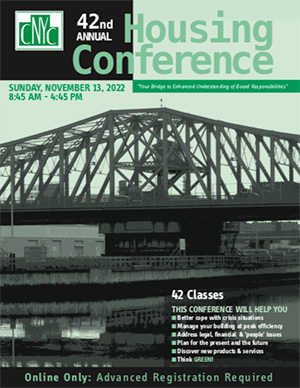 CNYC's 42nd Annual Housing Conference has classes on virtually every aspect of operating New York cooperatives and condominiums. And every 2022 CNYC member cooperative and condominium enjoys ONE FREE REGISTRATION to this full day of learning. Additional member registrants pay modest member rates, as do CNYC professional subscribers. Non-affiliates are welcome, too. Click here to download the Conference brochure. Share it with fellow board members and committee members and decide who will attend which classes, so that together you cover all topics of interest. Then register as a team to enjoy best rates, using the online registration wizard where credit card payment is accepted – or the registration page of the brochure to pay by check.
---
Past Conference Archive
41st ANNUAL HOUSING CONFERENCE
November 14, 2021
40TH ANNUAL HOUSING CONFERENCE
November 15, 2020
39TH ANNUAL HOUSING CONFERENCE
November 17, 2019
38TH ANNUAL HOUSING CONFERENCE
November 11, 2018
37TH ANNUAL HOUSING CONFERENCE
November 12, 2017
36TH ANNUAL HOUSING CONFERENCE
November 13, 2016
35TH ANNUAL HOUSING CONFERENCE
November 15, 2015
34TH ANNUAL HOUSING CONFERENCE
November 16, 2014
33TH ANNUAL HOUSING CONFERENCE
November 17, 2013
32ND ANNUAL HOUSING CONFERENCE
November 11, 2012
31ST ANNUAL HOUSING CONFERENCE
November 13, 2011
29TH ANNUAL HOUSING CONFERENCE
November 15, 2009
28TH ANNUAL HOUSING CONFERENCE
November 16, 2008
27TH ANNUAL HOUSING CONFERENCE
November 11, 2007